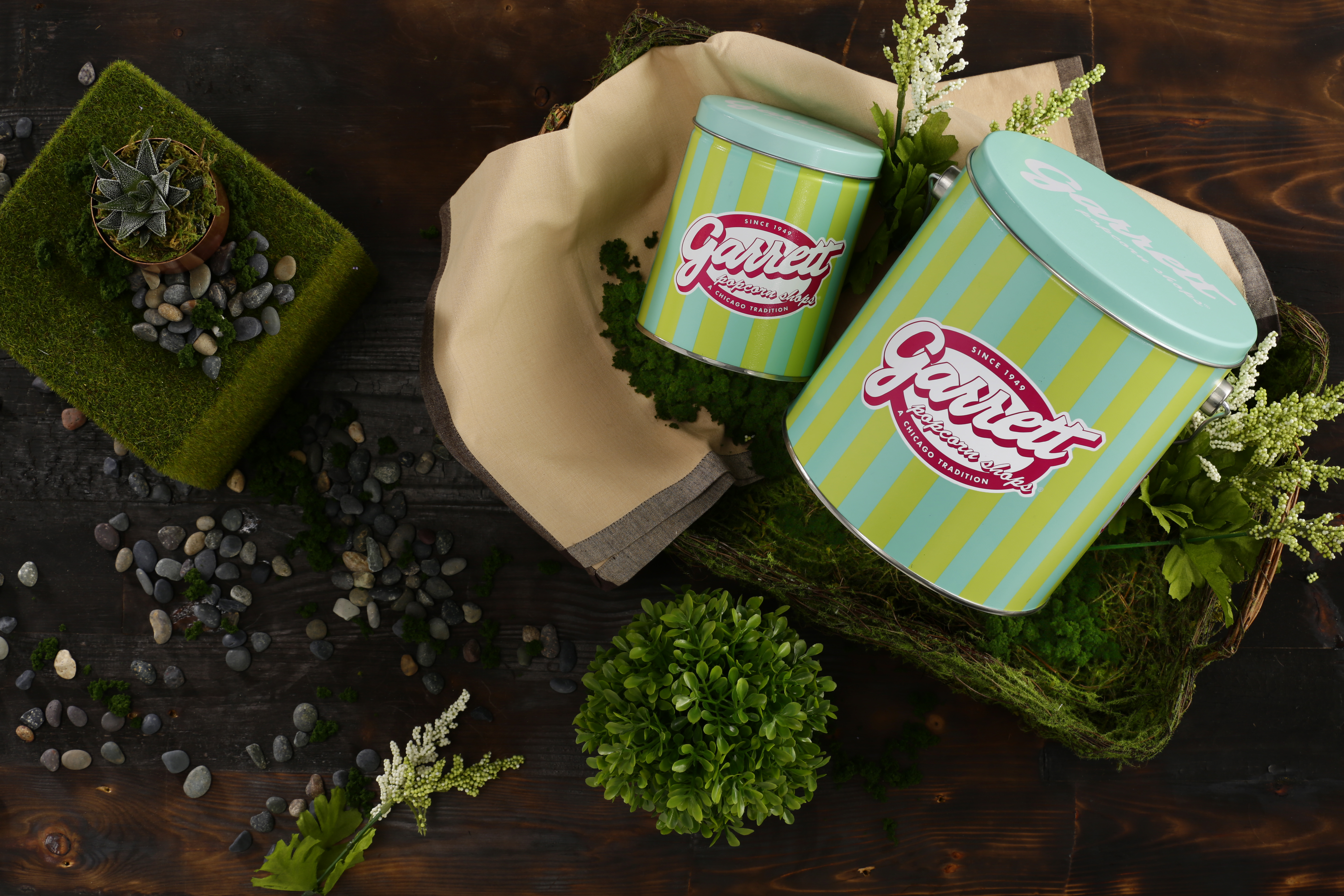 Give a gift that gives back this Mother's Day. Garrett Popcorn Shops®, Making Moms Happy Since 1949, announces the keepsake Spring Tin design and the Garrett® Spring Collection, with 10 percent of sales* going to Infant Welfare Society, an organization that ensures barrier-free access to services and provides a multi-service healthcare home to some of Chicago's neediest children and their families.
The Garrett Spring Collection features hot air-popped, lightly glazed Garrett Popcorn fully enrobed in four new, premium Belgian White Chocolate recipes: Strawberry, Orange, Lime and traditional White Chocolate. These indulgent and naturally flavored recipes are available in Shops and online:
Keepsake Spring Tin –1 Gallon Spring Tin filled 50/50 with CaramelCrisp® and any one Belgian White Chocolate recipe for $34.95, plus shipping for online orders.
The Spring Collection Gift Box –Four clear Half Quart Tins in a decorative Gift Box, each filled with one of the four Spring Collection recipes for $34.95, plus shipping for online orders.
"Given the success of The Garrett Spring Collection Gift Box which we launched in time for Easter, we are excited to expand our Belgian White Chocolate options both for Mother's Day and this worthy cause through our Garrett Cares initiative," says Chef David Funaro, Vice President, Lead Chef for Garrett Popcorn Shops.
"Garrett Popcorn Shops is an incredible partner to Angel Family Health, our wonderful Auxiliary and to our patients," says Michelle Di Benedetto, Vice President of Institutional Advancement of the Infant Welfare Society of Chicago. "Angel Family Health depends on the generous support of corporation, foundation and individual partners to help us ensure that hundreds of patients who would ordinarily go without healthcare services are able to access vital services."
In Chicago, Shops are located at: 625 North Michigan Ave., 151 North Michigan Ave. (Millennium Park), Navy Pier (food court), 26 West Randolph St., 4 East Madison St., 27 West Jackson Blvd., 737 East 87th St., O'Hare International Airport, in Terminals 1 and 3, Citigroup Center at 500 West Madison St. (2nd floor), Water Tower Place at 835 North Michigan Ave. (Level 7), and in Schaumburg, at Woodfield Mall's Grand Court.
For more information or to place an online order, visit www.GarrettPopcorn.com or call 1-888-4-POPCORN.
For more information on Infant Welfare Society visit www.infantwelfaresociety.org.
*Infant Welfare Society promotion period April 28 – May 21, 2017. U.S. sales only, up to $20,000.
Featured in Mother's Day roundups: