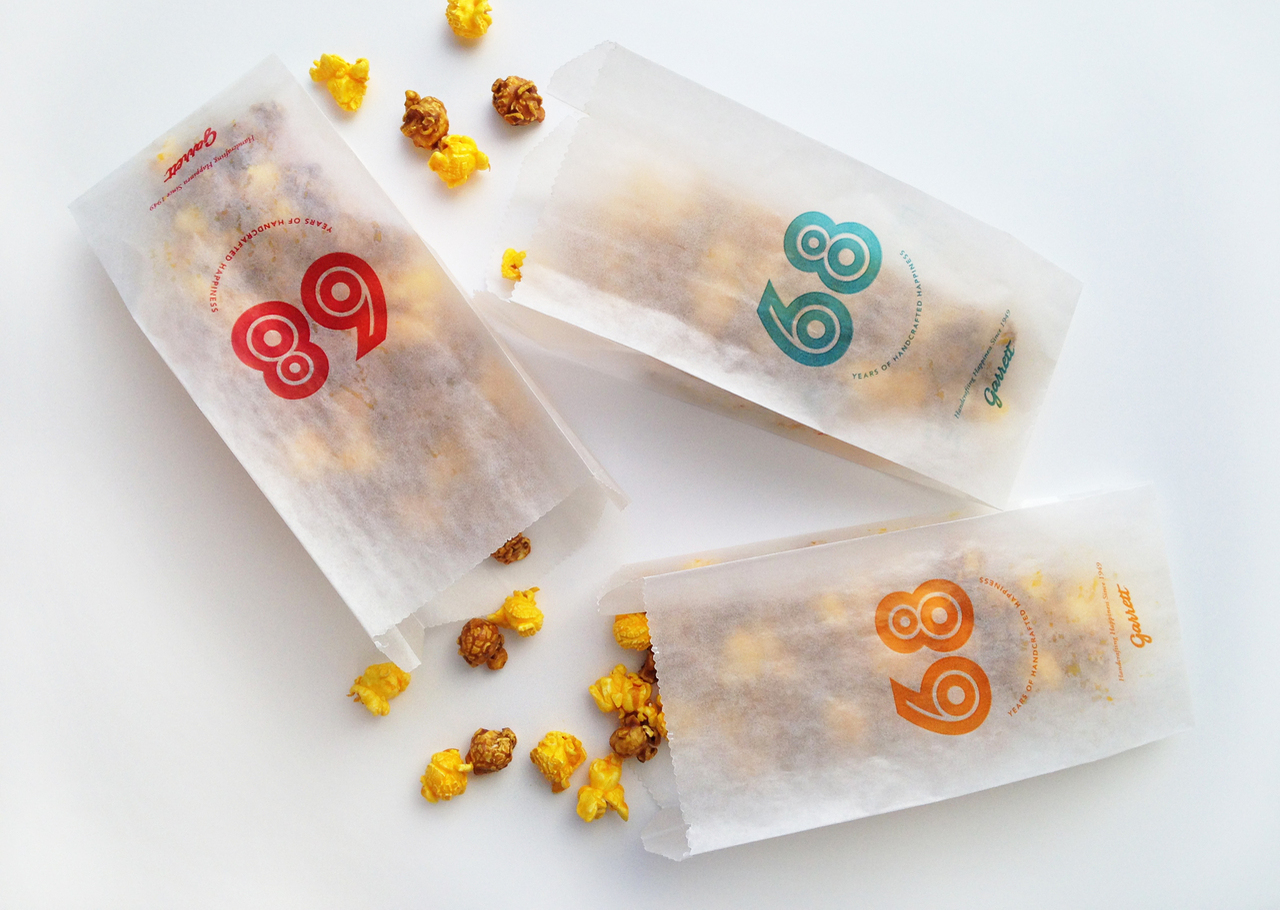 Garrett Popcorn Shops®, "A Chicago Tradition Since 1949 and a Molise PR client," is celebrating 68 years of Handcrafted HappinessTM with a birthday bash in September to thank loyal fans with special offers, prizes and sweet surprises all month long. The Garrett Popcorn Shops 68th Anniversary Celebration includes 68-cent bags of Garrett Mix, and the opportunity to win complimentary Garrett Popcorn for a year!
68-Cent Treat-Size Anniversary Bags
Every Wednesday in September, visit any Chicago Shop from 11 a.m. – 1 p.m. and snack like a champ with 68-cent treat-size bags of Garrett Mix, the perfect combination of the sophisticated sweetness of CaramelCrisp® and the savory goodness of CheeseCorn.
$19.49 Signature Tin Special
From Monday, September 18 – Sunday, September 24 only, Garrett fans are invited to indulge in a 1 Gallon Tin of Garrett Mix in any Signature Tin design for a celebratory throwback price of $19.49, available in Chicago Shops (or available online at GarrettPopcorn.com in a Surprise Tin design, price excludes shipping.)
Win Fabulous Prizes Including the Ultimate Prize of Garrett for a Year
From September 1 – September 30 fans will receive a complimentary Scratch & Win card with each Shop purchase to redeem on their next order. 68 lucky fans across the country will win the 68th Anniversary Ultimate Prize of Garrett Popcorn for a Year. Other featured prizes include size upgrades, Garrett freebies, special price offers and more.
Surprise Parties with Complimentary Garrett Popcorn and More!
Also, keep an eye [and nose] out for pop-up Surprise Parties around the city to score complimentary Garrett Popcorn and Scratch & Win cards throughout the Garrett Popcorn Shops 68th Anniversary Celebration. Surprise Parties will be announced through Garrett social media channels including Twitter, Instagram and/or Facebook.
In Chicago, Shops are located at: 625 North Michigan Ave., 151 North Michigan Ave. (Millennium Park), 26 West Randolph St., 4 East Madison St., 27 West Jackson Blvd., 737 East 87th St., O'Hare International Airport, in Terminals 1 and 3, Citigroup Center at 500 West Madison St. (2nd floor), Water Tower Place at 835 North Michigan Ave. (Level 7), and in Schaumburg, at Woodfield Mall's Grand Court.  The Shop located at Navy Pier will close in September for remodeling and re-open in late Spring/early Summer 2018.
For more information, visit www.GarrettPopcorn.com or call 1-888-4-POPCORN.
Recently, Garrett Popcorn's Jaclyn stopped by the CBS46 Plugged In studio to chat more about the initiative! Click below to view the full segment:
Included in: